Thu 16 Feb 2012
I do a lot of pre-school activities with Alex. Most of the time we do this in the afternoon when the "little ones" are napping in the afternoon. Kalea is starting to show some interest in more learning activities too. She likes to read a BUNCH more than she used to, she is liking to color and do "letter a" with Alex on the iPad. (it is a starfall app). I have been trying to come up with some kind of pared down activities that would be fun and learning for both kids. I of course loved when I found this idea on pinterest. (yep, there is my newest addiction again)
I had the kids making sensory bottles. They LOVED it. Kalea especially (which was my goal!) Here are the supplies I used.
I had the bottles, foil and rubber bands, everything else I got in the dollar toy aisle at Dollar General. I cut the beads off the string so there was more individually to put in.
I filled the bottles half full of water then gave each kid half of the supplies to put in.
;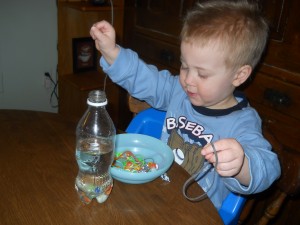 They both did a great job dropping the small objects into the small holes. I was pretty impressed with their hand-eye-coordination, the rubber bands gave them a bit of a problem, but once I showed them how to kinda ball them up Kalea figured it out right away and wouldn't let me help her anymore. =)
Alex got a decent amount of enjoyment from the bottles. It opened up a great conversation about differences in weight, how all the heavy stuff sank to the bottom and the light all floated. I would ask them to look for a certain color and they would turn their bottles till they found it. Kalea really really loved it, she carried with her all day, just spinning it all around and looking and looking at it. She would bring it up to Jason or me and say "show you! Show you!" because she was so excited about it.
Since we did this one, I would change a few things. I would only use a few heavy items (like the marbles) and more floaty items (the foil was great!) I also found some other really fun ideas for some. So as soon as we get some more clear bottles we will be experimenting with different types and learning different things with them.
Overall: this project was a WIN!