Sun 6 May 2012
Kids have a way of really humbling you. Not gonna lie, my kids are great, but they are 2, 1 and baby. So, we have our moments. Well I don't know what got into them this week but they were pretty well rotten  whiny normal kids. And they were stepping on my last nerve. A. Lot.  I was that mom this week that everyone looks at and says "I won't be like that". I lost my temper, put off reading books, snapped, and mumbled under my breath. Which in turn caused them to act even more like 2,1 and baby.  I think you get the picture that it was just a bad week.
But despite my shortfalls as the mommy I should be, I was so blessed by this little girl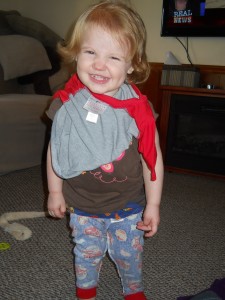 When I went to go get her up in the morning, I could hear little cries coming from her crib. I would walk in with my pleasant "good morning Beautiful!" and then ask what was wrong. "oh *little sigh*, I just tryin." "why are you crying?" "Tuz, I just missin you".
Gulp. I wouldn't be missin me, I would be hanging out in my bedroom to avoid me as much as possible. But my sweet Kalea, had a way of showing me just how I should be loving her. Even when I'm in a bad mood, even when she is in a bad mood. She still loves me unconditionally. She still wanted to spend time with grouchy mom.  After that I kinda shaped up, and tried not to get so aggravated when Kalea shreaked because Alex took the toy sweeper out of her hand, or Alex whined about not having honey on his cheerios, or Michael simply could not be put down and the dog wanted to go out at the most inconvenient time.
So often we look at the parenting relationship as a mirror of us and God, with the children being similar to us. This week, I realized that my kids can give me a pretty good look at the character of God. He loves us unconditionally. We can throw a fit, scream and yell because God isn't doing things our way, in our time (seriously, do you know how slow a 1 year old can move?) And doesn't God know that I have dishes to wash and laundry to fold? I just don't have time to sit and read with Him. We can grumble under our breath about how it just isn't going as smoothly as it should be. And yet after my fits, He still wants to come up and give me a big hug like my Alex and out of the blue say "I love you so much!" Â He still cries just because he is "missing me".
Now, Jason and I are still working on our three displaying all of the character of God, but they pretty much have the displaying unconditional love thing down.
Today in church we heard a great message about how rules without relationship will lead to rebellion. Right now I can get away with just rules. They pretty much have to listen to me, they are all under 3. But now is the time to really foster the relationship, so when they are teenagers we have a good foundation. Thankfully, as I muddle through this whole mommy thing, they are in a very forgiving stage of their life. And we can kinda learn this together. Â I have to keep reminding myself, I only have one shot with these kids, I can either keep beating myself up whenever I have a failure moment, or I can learn from it and learn from them and move on, apologize to my kiddos and do it better the next time.
Now, here is praying I remember this post when the inevitable whining and shrieking start in the morning.
No Responses to " My lesson from Kalea "
Sorry, comments for this entry are closed at this time.