Thu 13 Oct 2011
Posted by Stacy under about us, Kalea
Comments Off on Our little Princess.
So here is how our not so Little Kalea is doing she is now 16 mos old already!!!! She totally lights up this house with her smile!
She is such a little mom, very concerned that everyone has everything they need. She constantly bringing us our phones, iPods, shoes, Michael his blankets. She loves to push her baby dolls around in her stroller.
She makes the most adorable cheese grin!
Learning how to talk! Mommy and Daddy (she is a HUGE fan of daddy!) And the sweetest "Hi". Lets see, night night, bath, bye bye, thank you, puppy, Alex, Michael (My-My) More and Milk are also very common things to hear. She knows she needs to say Please but can't so she just looks at you and smiles real big for please.
Kalea loves to chase and play with Jasper. She gets soooooo excited when she throws the ball for fetch with him.
She is wearing 18 and 24mo clothes (Alex is still in 24 m -2T) size 5 shoes.
She is really getting into reading which I love!
Also quite the helper she has started "helping" me with the dishes.
Getting her to sleep is sooooo awesome, we rock for a few minutes then she points to her bed and says "night night".
And she gives the sweetest kisses!
And the fun stuff – her updated pictures =)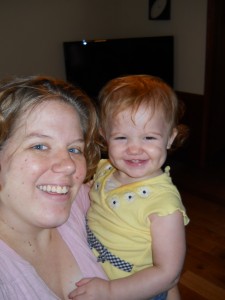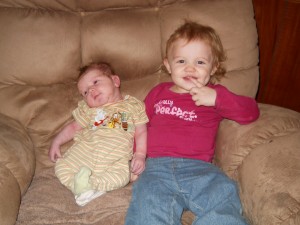 No Responses to " Our little Princess. "
Sorry, comments for this entry are closed at this time.