Fri 8 May 2009
JUST KIDDING!!!!!
But I did have two wonderful showers last weekend… Baby showers that is!!!! On Saturday I had a shower with Jason's side of the family. It was a yummy yummy brunch! decorated with adorable outfits, and little froggies.  It was really cute.
Just look at this delicious spread!!!!! It makes my mouth water just thinking about it….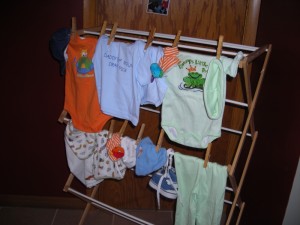 Some of the cute outfits I got, I can't wait to put them on "Sully".
The baby doesn't look so comfortable… but the clothes pins on the shirt is very creative!
Ahhh I have a feeling I will be stealing this idea from Kelly and use a front pack or sling for when I hang out the laundry.
One of the games we played was holding a baby (doll – thank goodness) talking on a phone and hanging up laundry and seeing who could do it the fastest. It was a little worrysome that occasionally the baby went flying, or the phone, but it sure was fun!!!! Great Aunt B was the winner with a time of 23 seconds (I think) (For more on the shower you can check it out here)
Look at all these gifts! I am glad Ang was recording everything for me!
Then on Sunday, I had a joint family shower with my cousin. She is due just 6 days after me!!! I of course didn't get any pictures of it, because I forgot my camera 🙁 Thankfully my Aunt will be getting me doubles.
We had chicken salad and fresh fruit. Chips, pretzels, YUMMY chocolate/raspberry cake and ice cream. We visited and talked pregnancy and babies. It is fun because of the 7 of us that are married, 5 are either pregnant or have had babies within the last 8 months.
Between both showers I think we have just about everything we need for right when the baby is born! Now I just have to wash the linens and clothes and organize it all.
As you can see my *almost* finished nursery needs a little more orgnaizing now.
Thanks everyone for the wonderful weekend, and helping us get what we need for when "Sully" comes!!!